The Saiga rifle and shotgun are sporter versions of AK-style weapons manufactured in Russia.  They are "true" Kalashnikovs, licensed and made in the same factory where the AK47, AKM, AK74 were made and where AK-100 series of rifles are still being produced.  
Though genuine Russian AK-style weapons have long been banned from importation, the sporterized Saiga rifles and shotguns were easily obtained from any firearms dealer.  In 2014, Obama shut down the importation of all Russian arms, including the sporterized Saigas, but you can still obtain them on the secondary market. 
Parham Custom Guns can customize your Saiga rifle or shotgun into the weapon that it was meant to be!
STOCK SAIGA RIFLE IN BORING SPORTER CONFIGURATION

Basic saiga rifle/shotgun conversion starting at $350 labor plus cost of parts*
Our basic conversion is from the magazine well back and includes:
Install new US-made fixed buttstock and pistol grip, screw and T-nut.
Install new trigger guard or reshape and re-rivet factory trigger guard
Remove factory bolt hold-open
Fit, polish and adjust new US-made hammer, trigger and disconnector.
Install quality spring steel hammer/trigger pin retainer plate
Old trigger and hammer pin holes filled with rivets for factory look
Install bullet guide and adjust mag catch and mag well for hi-cap mags (not on shotguns or .308)
Touch-up with black hi-temp enamel to match
Testfire and zero
Popular options: Thread barrel for a flash hider (+$105 and up), Railed forend, adjustable match trigger, Texas Weapon Systems and/or Ultimak rail (varies), Folding stock with ACE-type hinge.
---
For basic conversions, I strive to keep turnaround at no more than 4 weeks once the rifle is delivered to my shop. This is subject to the availibity of parts.
* Several years ago, an international private equity firm acquired a popular supplier of affordable AK furniture and trigger groups. In early 2020, the popular AK parts supplier, along with several other firearms manufacturing companies, was shut down by the holding company. Having to source parts from different US-manufacturers greatly increased the cost of parts necessary to convert Saiga rifles and some parts may be difficult to procure.
In response, I have been forced to change my pricing structure to labor plus cost of parts.
For 922r compliance, the buttstock, pistol grip, hammer, trigger and disconnector must be Made in the USA. The cost of these parts, plus the bullet guide, "usually" ranges from $120-$150. I will provide these parts for a customer's build at my cost or a customer may send the parts they want installed. If you plan on sending parts for me to install on your rifle, please contact me ahead of time to ensure compatibility and suitabliity for the particular application.
FULL SAIGA RIFLE/SHOTGUN CONVERSION
COST OF BASIC CONVERSION PLUS $200 LABOR AND COST OF PARTS (APPROXIMATELY $250)
All the basic conversion services plus work on the front end to include:
Install handguard retainer and fit new upper and lower handguards
Fit new gas tube
Replace Saiga front sight with AK74 front sight and 24mm threaded muzzle brake/compensator.
BASIC SAIGA CONVERSION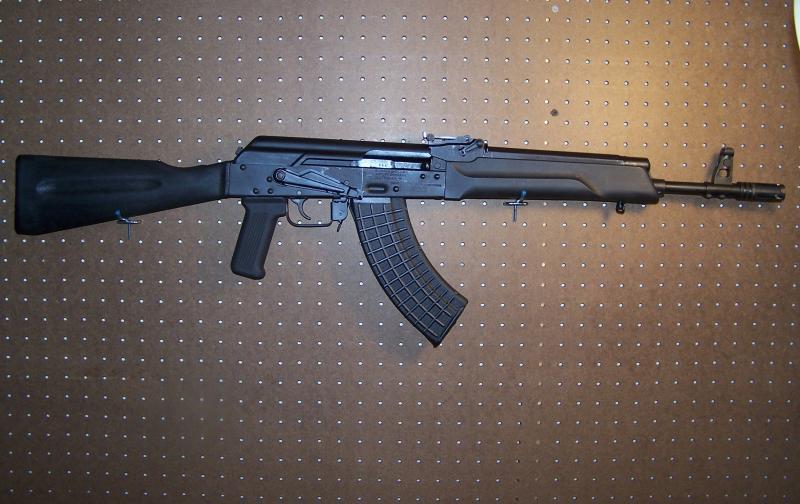 This 7.62×39 Saiga is a basic pistol grip conversion but I have fitted a Phantom-style flashhider.  The main difference between the basic and full Saiga conversion is that a basic conversion retains the factory Saiga handguard and exposed gas tube.  They are ok for general use but aren't as sturdy or cool looking as "real" AK handguards and a shrouded gas tube.
The full conversion also includes an AK74 front sight with threads allowing a vareity of muzzle devices to be fitted.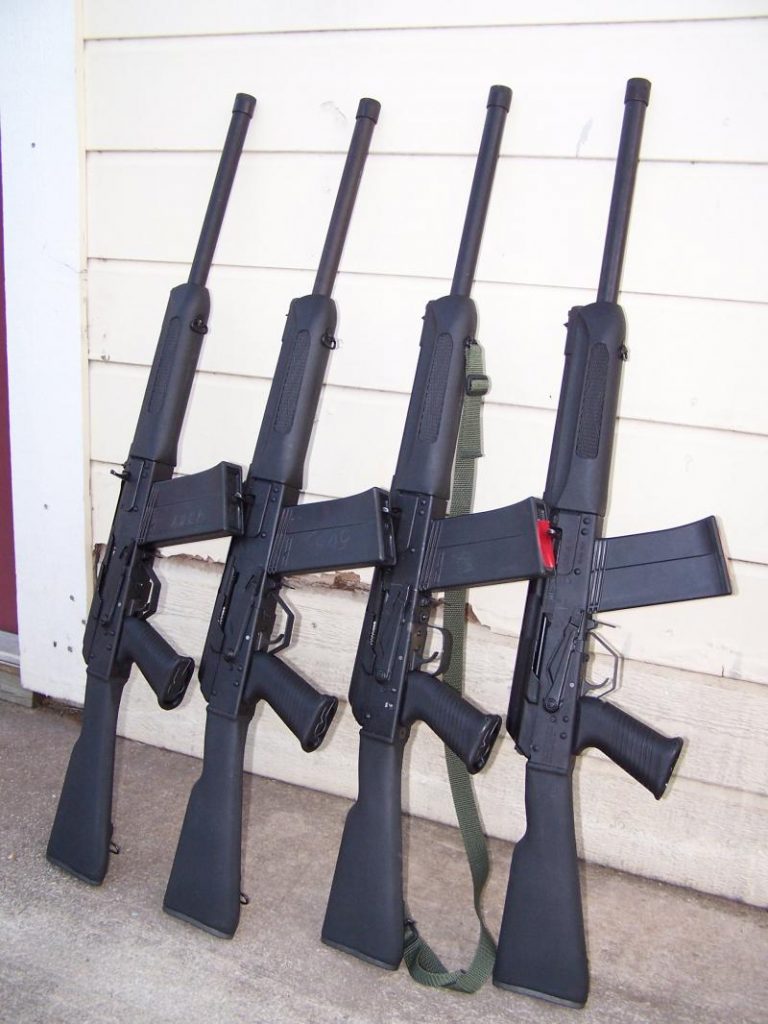 Saiga 12 gauge shotguns all in a row.  
Please contact me at the phone number or email address listed below to get your Saiga started and turned into the capable weapon that it was meant to be.